Gluttonomy launches 'The Seed Initiative' to support innovative food startups
Carolina Duarte
September 23, 2022
·
9 min
Salcedo Coffee is the first brand coming out of this initiative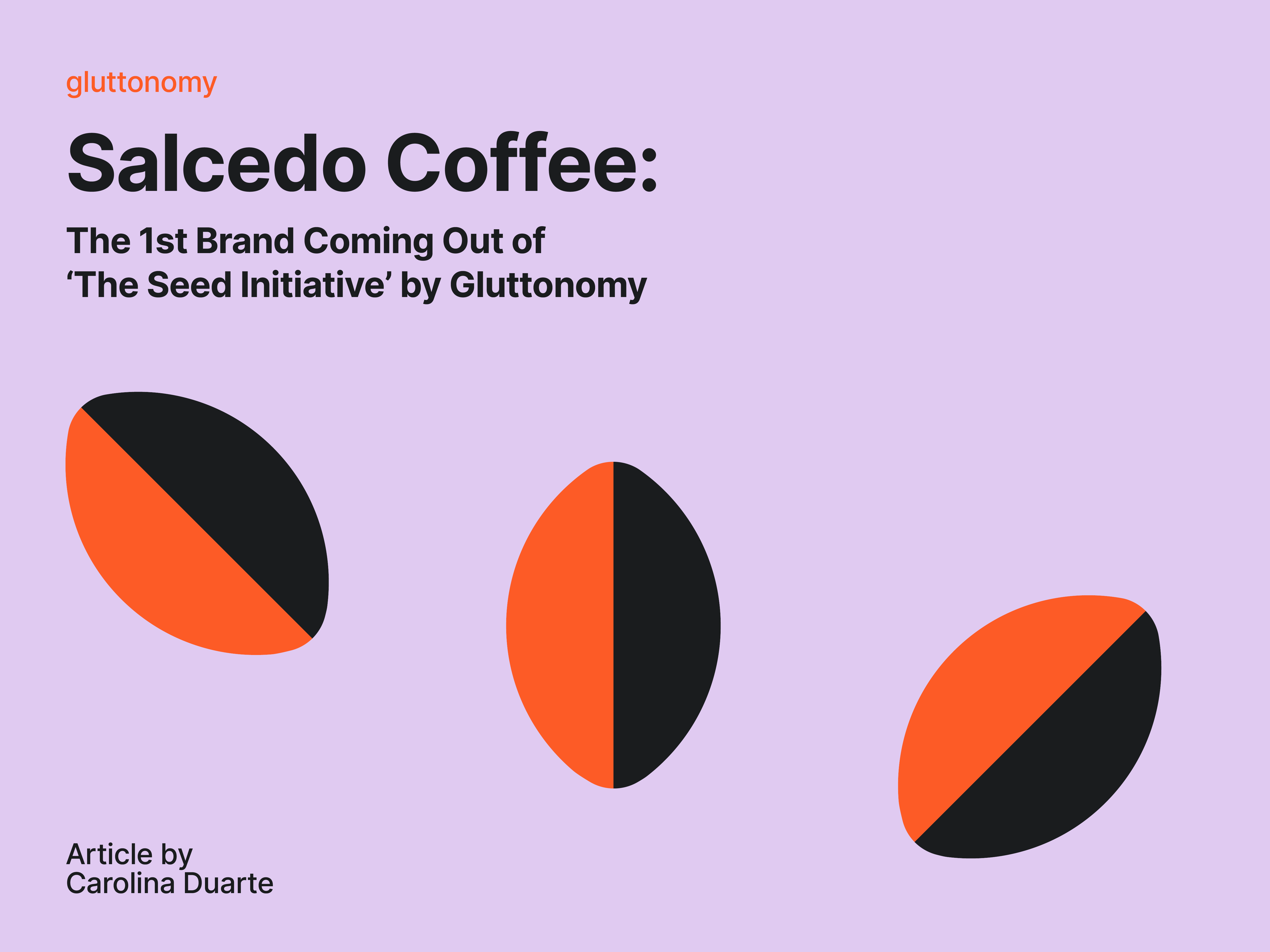 Part of our mission at Gluttonomy is to help the food industry grow and become more innovative. That ambition drives everything we do and it shapes who we are as a brand and as a company. We are continuously looking for ways to create the perfect environment for our network of clients, friends, experts, and employees to collaborate, nurture new projects, and develop their ideas. So to promote and enable that mission, we launched The Seed Initiative.
The Seed Initiative is our commitment to enabling new ideas to come to life. It's a brand consultancy program for companies whose mission concerns sustainability, the greening of the industry, or innovation. And the best part is it's entirely free. By removing the price restriction, we are giving smaller startups the opportunity to build a brand with purpose and find their message from the very beginning, so that their products can do what they were born to do: disrupt the food industry, better the lives of their customers, and make the world a little bit sunnier.
This new initiative will, in parallel with our work at Gluttonomy, help new innovative brands and projects come to life. Any company that is developing an original or sustainable food product has now the chance to get access to our unique knowledge and network to create a brand that reaches the attention and results they envision.
The first brand coming out of this Gluttonomy Initiative was Salcedo Coffee. I talked to its founder, Diego Salcedo, about his journey as an entrepreneur and his drive to create this brand. 
In early September, I connected with Diego via video call. He was excited about the new branding we had created for Salcedo Coffee, was preparing to receive the new packaging we had helped him with, and was working on his website rebranding. The conversation was long, as we were both very excited to discuss his journey, this new Initiative, and the significance of having a strong brand. I invite you to read the conversation highlights in this post and go to salcedocoffee.com to try some of Diego's amazingly curated coffee selections.
Carolina: Great to hear that you loved our branding for Salcedo Coffee, Diego! Can you tell me a little bit about what made you start this business and the idea behind it?
Diego: This idea came out of me roasting coffee for myself and then I liked it. I had extra and I sold it to my friends. And then they all love it, so I was like, oh, this is a pretty neat idea. This was 2017, maybe 2016, but at the time I was living in Arizona. And, you know, my work just started to change, and I had to travel a lot. So I really didn't have time and I had to put on hold. (…) 
But [the idea] it started when I came from Venezuela. Venezuela had, especially when we were growing up, really good coffee and we weren't talking about scarcity, green tea, coffee or anything like that. It was just coffee. When I came to study and live here in the U.S., we really didn't have good coffee. The coffee here was terrible. And so I would always bring coffee from Venezuela. Maybe if I was in Miami for three days, you could go to the Cuban quarters and get a good coffee. But that was about it.
Carolina: And what year was that? 
Diego: We're talking in the nineties. 
Carolina: Oh!
Diego: Back in the day, right? [laughs]
Carolina: Uh huh. [laughs]
Diego: So, you know, a lot of this was just me wanting good coffee for a long time. Fast forward to 2010, I and my family moved to Scottsdale, Arizona. And I was doing some leadership courses there. And I came across some people who are talking about roasting their own coffee at home. (…) And then someone who I knew closely was doing the same thing. And so I said, okay, hold on a second, tell me more about it. And then he started sharing with me how he was roasting at home, what roaster he had, and where he was buying the beans from and all of that. I'm like, wow, that's the same thing that I'm talking about. 
So I just looked into it and I found the company online that sold beans and the little roaster that I could just, you know, plug into the wall and roast. So the beans, I still buy a lot from this same company, although they're more focused on the home roasting market, not like commercial roasting. But with them, I was able to get beans from Ethiopia and try them, get beans from different parts of Africa and try them, get beans directly from Guatemala and Brazil and Colombia. Like all these different places and I could try them and they were the best coffees that I had had, you know, ever. Like better than what you could get in Venezuela too. 
And then suddenly I'm realizing I have access to the best coffee in the world here in the U.S.. The roasting part of it was very intriguing to me because as I started doing a lot of research online, watching videos, and reading books and stuff, I became fascinated by the science of roasting. There's a lot of what I learned in undergrad when I was studying engineering in terms of heat transfer that I understood (…).
Carolina: Right, so interesting. 
Diego: The history was very interesting to me, to see how it [the coffee] originated, like in Ethiopia and Yemen and how it spread through the world. Into Latin America and all of that. So that all fascinated me. That's sort of where it started. It started with, I have access to these three coffees and I know that this vendor buys directly from them. All these almost by default are organic. They may not have an organic seal on them because that's expensive for a lot of these farmers. But by default, they're organic, because they're coming from small countries and small farms. So that's where it started. I have access to incredible coffee and I can roast it and actually have people that want to buy it from me (…).
Carolina: Was there a specific year when you started selling it and created the company, or did you start gradually?
Diego: The company was in 2017, but it's still today like friends and family, you know. (…) [In 2017] That's when Nidal [Gluttonomy's founder] and I came up with the logo, the name and stuff like that. I remember I was sitting in my garage and I said, wow, I just spent like 80 bucks on a coffee. I'm wondering if I could sell it to my friends and kind of pay for my hobby. 
Carolina: How did the naming process happen? 
Diego: So in 2017, when we had that conversation, I had a different name in mind. And [Nidal] he's like, what about Salcedo Coffee? And I said, (…) I don't know, it kind of sounds a bit arrogant to me. [laughs] But Nidal is like, no, no, it's got a great sound to it. And the more I thought about it, I'm like, I actually do like it (…).
Carolina: Did you have any sort of understanding or expectations in terms of what having a brand strategy for Salcedo Coffee would be like?
Diego: Yeah, (…) because of my background. I got my master's degree and I have an MBA, so quite a bit of experience dealing with business and marketing, and sales. I understood, you know, what a company needs to be a successful brand. (…) When we talked, I'm like, okay, these are the basic things that I think I need to be successful. I need these assets, they have to be evergreen and they have to be versatile for the different platforms (…).
Carolina: What are the next steps for your company and how has our Seed Initiative program helped you get there?
Diego: For me right now, I need to stop roasting in my garage and actually find a place where I can roast. Because I want to be completely legitimate. And I'm also thinking of how do I maximize my web traffic, subscriptions, Instagram, (…) I'm learning that on my own, right? So having a step-by-step to get to this next level. (…) I think it's a difference between a mom-and-pop type of shop and an actual professional company. (…) A company that can persist and which can stay for much longer needs this type of support from the get-go. 
Carolina: Where do you want Salcedo Coffee to be in ten years?
Diego: You know, there's a revenue goal, a goal of having my own space and having employees who are experts and who believe in what we're doing. (…) I would like to play a role in bringing Venezuelan coffee back like The Monk of Mokha [book by Dave Eggers] (…) A story of a Yemeni American dude who singlehandedly brought Yemeni coffee back into the specialty grade coffee. I read his book a long time ago when it first came out. I thought that would be really cool if we can do something similar with a coffee bean grown in Venezuela and bring it out to the world market. 
Branding

-

BrandStrategy

-

The Seed Initiative