How to create a successful brand strategy
A simple step by step guide to create an effective brand strategy.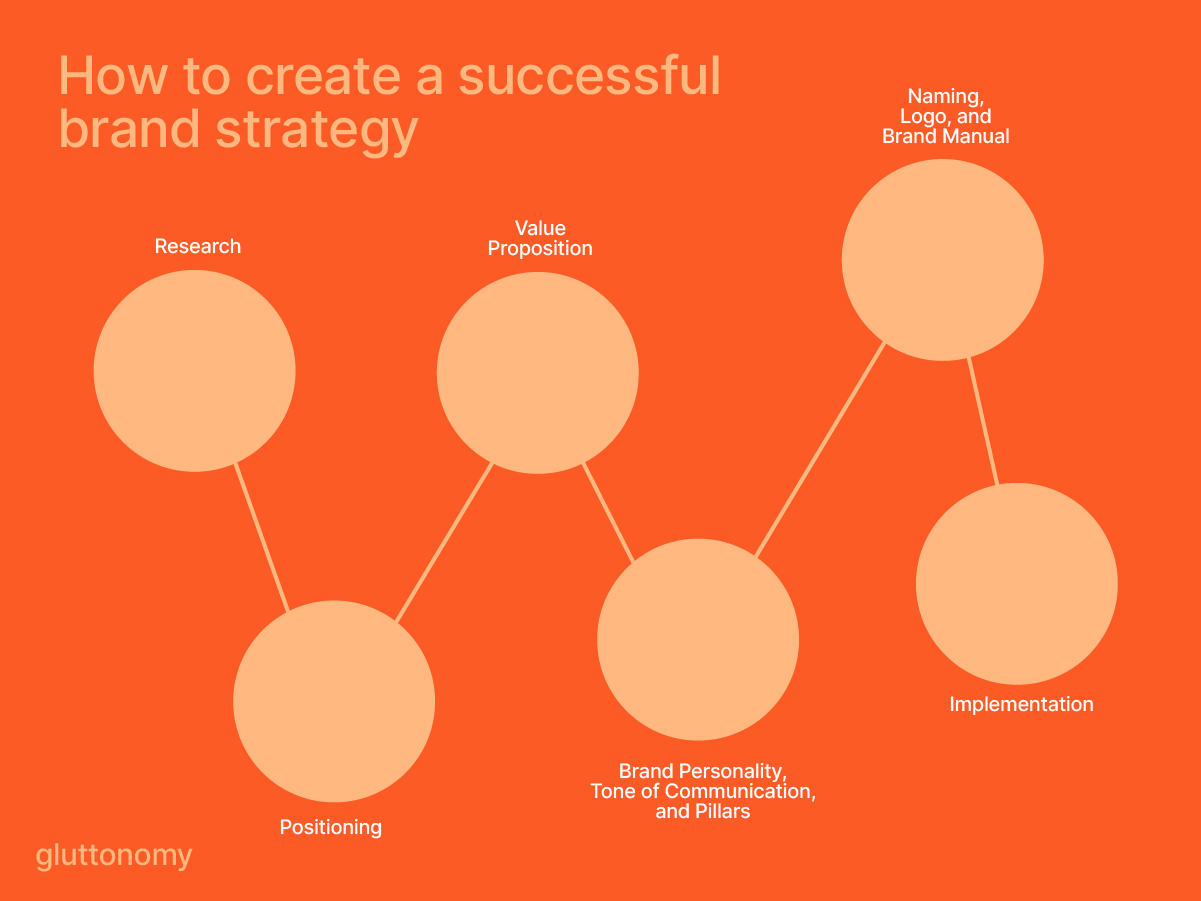 How do you put together a brand strategy? It's a question I get often - from clients who want to understand how the process will work for their brand or product, from people who are curious about how life is at a creative agency, and from entrepreneurs who are building their business and need a little help stepping up their marketing game.
Building a recognized brand is the dream of any business owner and marketer. The first step towards achieving this is to create a unique brand strategy. The second is to get your brand out there through a brand awareness campaign. In this article, I will focus on the first step and tell you how I and the Gluttonomy team approach a brand strategy when a client comes to us with a product or brand they want to launch or rebrand. You can use this article as a step-by-step guide to creating a strong strategy for a brand or product and, consequently, producing a campaign that resonates with your audience and achieves the goals you have defined for your business.
Branding is what connects all the dots in your marketing and business strategy, it's your company's reason for existing, which drives all the marketing decisions. Branding is your value proposition, who you are, what you offer, and where you want to be in your customers' minds. Branding is the vision from which marketing executes. So this means that without strong branding, you are risking not having or knowing what your real purpose is in the market. Check out this list by Matchstic that explains it in the best way.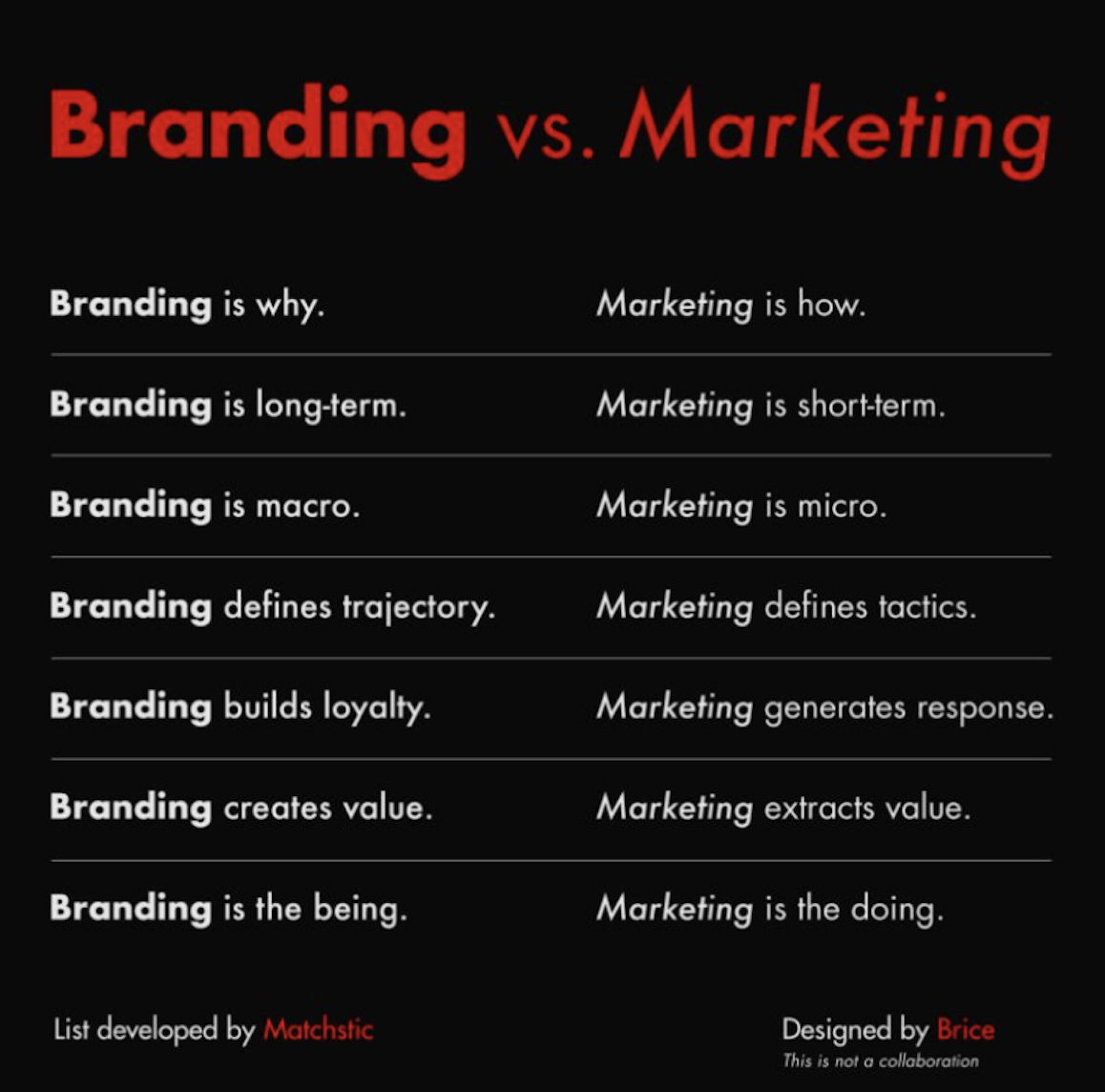 This means that a brand doesn't only include your cool logo. Having a strong brand means you have defined what it represents, how you communicate with your customers, its personality, why it exists, what uniqueness it brings to the market, and all the visual elements that help with its recognition - from the logo to a concise design system explaining how to use its colors, fonts, shapes and aesthetic.
Now, let's talk about what all this means.
Step 1. Research
For the first step in your brand-building process (and the one many people - wrongly - disregard), research and learn as much as you can about the industry your or your client's company is part of. Read (and write down) everything about your possible competitors, what they do, what their brands look like, how they communicate, as well as what are the trends in the space and what the future holds. As a strategist you should also run a quick competitive analysis as soon as you're able to define who your audience and competition might be - this will help you a lot with the next step.
Step 2. Positioning
In this stage, define who is your audience and establish the different segments your strategy will target. Creating a persona for each segment is essential to fully understand who they are, why they need your business, and how you will need to communicate with them to get their attention. This is one of the most important steps as here you will define what problems your business is solving for each of the target audiences and why it is different from any others in the market.
Don't forget that positioning is directly connected to the business goals and specific strategy or campaign objectives. So be sure to align with your team about what particular metrics you are looking at achieving.
Step 3. Value proposition
Following the same line, you must identify your differentiator as a brand. Write down all the benefits and innovations your brand or product is bringing to your customers. Then, define your WHY by using the Golden Circle tool by Simon Sinek. Your why is your selfless mission, it explains why you are different from your competitors in an inspiring engaging way. Once you define your WHY you will be able to write down your value proposition, which will lead you to define the messaging for your campaigns as well.
Step 4. Brand personality, tone of communication, and pillars
At this point, you will already know what type of brand you are creating and how it needs to communicate to its audience (because you've learned what your customers need, who they are, and what you offer them that is unique).
I suggest you imagine your brand as a person and ask: what would their personality be? Feel free to use visual aids and put together a mood board with the look and feel of who this 'person' would be. This will help you define personality traits (is your brand conservative or fun?), the colors it represents (if it's serious use darker colors if it's young and fun use brighter colors), the way it communicates (is it formal or informal when talking to customers?), and the communication pillars (what you need to communicate touching on your value proposition, through what channels and what type of language will you use). Be specific, create different pillars and tones of voice for each segment so you'll know exactly what needs to be distinct when you are creating the messaging for your campaigns.
Step 5. Naming, logo, and brand manual
Once you have documented all the previous steps, you should present it to the creative director or designer in charge of developing the branding. Together you will then define the creative direction of how the brand will look and they will start the process of creating the logo and brand manual.
As for naming - this is an interesting one as it can be very creative - it may happen before, during or after the strategy is put together. It sometimes takes a lot of research, other times comes to you in an instant. A few things are important though: make sure it speaks to your audience, it's easy to pronounce and write, and represents your brand personality.
Step 6. The implementation
The following step will likely be to generate brand awareness and define a go-to-market strategy in order to reach the audience you have previously defined. But most importantly, you want to get your message out there! You might want to focus on creating an awareness campaign to be distributed through multiple channels. This campaign should focus on key brand messages that resonate with your target audience and represent your value proposition. In this step, you must collaborate with the design team to produce the assets for the campaign and build a detailed plan on how those will be disseminated through multiple channels. Don't forget to define KPIs and metrics to achieve, A/B test multiple options to see which messages perform better, and correct your execution along the way.
This process needs to be iterative and adaptable. While developing the positioning, the value proposition, the branding, and the creative campaign, don't forget to test, learn, iterate and repeat until you have found the approach that your audience better responds to.
The challenges (aka when to ditch process)
Building a brand is a creative exercise so there are many steps that will get blurry and many ideas that will get in the way of execution. It's important to find room for all those moments. Sometimes you need to let your mind go, write or draw silly ideas, brainstorm for hours, walk/travel/socialize to get inspired. Other times you need to stop and organize your thoughts, write down steps and goals, define actions and execute vague ideas.
For a team lead or manager, this is often the most challenging responsibility to deal with, especially when you have to manage both creative and analytical team members, whose minds work very differently both in speed and in process. On the other side, this is also challenging for some individual team members, who sometimes struggle to get their ideas across, so be empathetic and make room for mistakes as well (needless to say, try to always learn from them).
Branding is a collaborative process, not individual and not about what one person thinks or likes, it's about what your audience wants. So it's important to create a space to listen and give feedback to each other, but also to learn how your team better operates. One way you can do this is by establishing a lean process, where in between each meeting you take time to reflect, analyze results and iterate the communication approach and tasks for the next meeting so it becomes better adapted to the team's needs and, therefore, more productive. Another option is to share your plan of action and roadmap with the team beforehand and be open to their suggestions, needs and concerns. But whatever road you chose as a team lead, be sure to create a healthy environment where you can guide and train junior team members in terms of process and attitude so it becomes easier and faster to deliver results on projects over time.
Life at an agency
It's worth mentioning that working at an agency differs from working for a particular brand. You work with many different brands, products and campaigns at the same time, so there is an intrinsic need to think fast and constantly change your mindset to adapt to each different project. It also takes a lot of trusting your 'gut feeling' to be able to make decisions quickly with, sometimes, little data to support your choice. But it's a very fun ride, and at the end of the day, the most important thing is to create a space for creative collaboration where you can learn with each other, and you will see amazing ideas come to life.
BrandStrategy

-

Branding

-

BrandMarketing