Julia & Henry's: Re-igniting Downtown Miami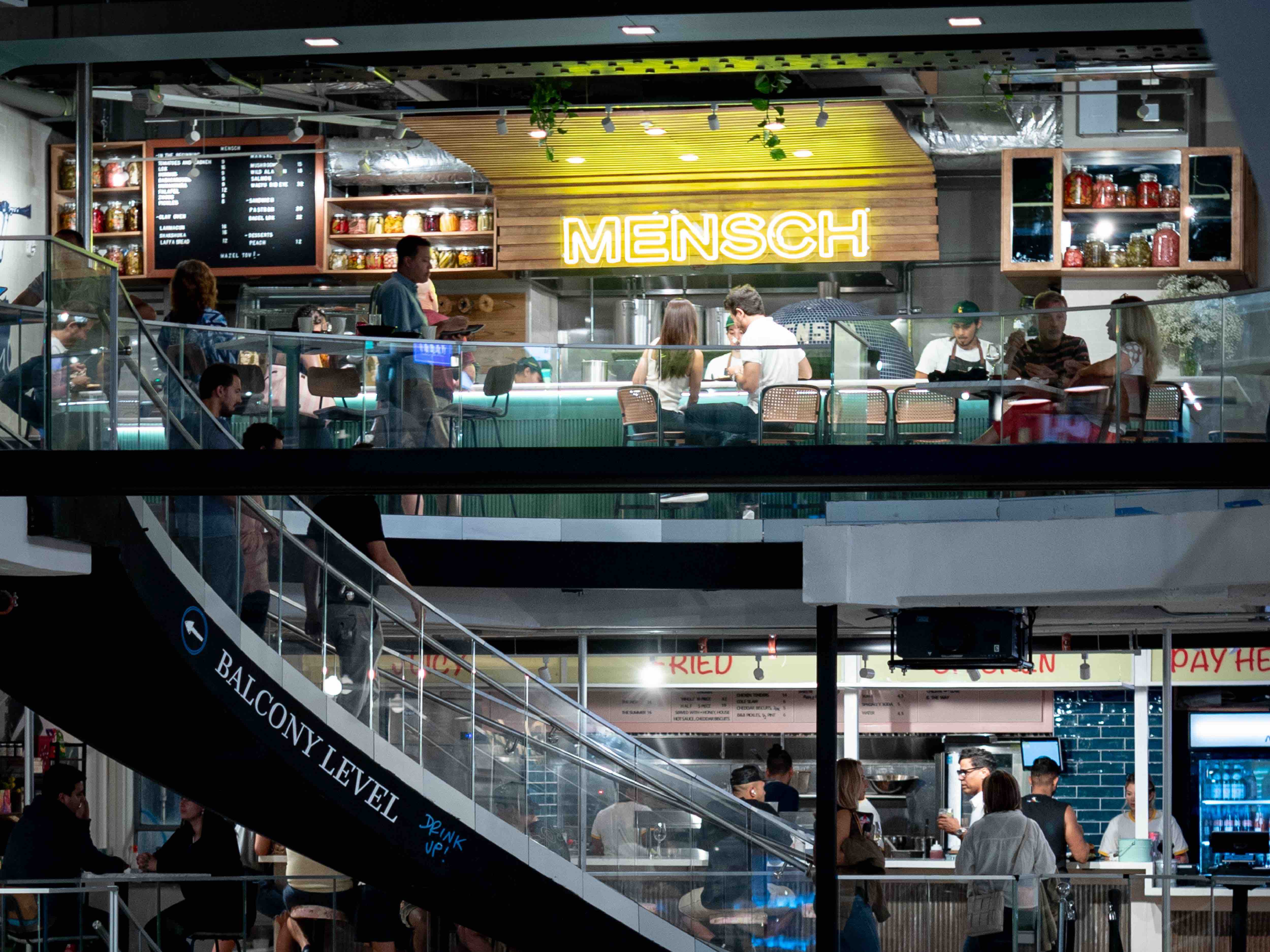 I am thrilled that Julia & Henry's, the highly anticipated entertainment hub, has finally opened its doors in the heart of Downtown Miami. This transformative project, spearheaded by a group of visionary minds, is set to bring an unparalleled experience and revitalize the entire area. I am filled with anticipation for what the future holds, eager to witness the mark that Julia & Henry's will leave upon our city and the culinary industry.
About five years ago, I met with Daniel Peña, one of the owners of real estate developer Stambul. He walked me through a 6-story historical building in the heart of Downtown Miami. The building was empty, but I could sense the vibrancy of its better years. Even though the area surrounding the building was still struggling to become what every big-city-downtown deserves to be, we shared a vision and we knew that a massive culinary hub would be a catalyst for a major change. 
Fast forward to June 2023, I am standing in the central atrium of a high-spirited building. I am surrounded by restaurants and bars, looking at groups of people around tables sharing food, drinks, and stories. On one side, I see a chef serving a fresh ceviche adjacent to a hot grill where sausages and steaks are being grilled to perfection. I see Italian tapas from every region in Italy, decadent sweets, and golden crispy cones of fries. I look above and look at people walking around the different stalls, some are ordering a "machete taco", and others succumbing to a Parisienne burger washed with a local IPA. Everywhere I look, there are families, couples, friends, and even solo diners. I see people enjoying Poke bowls, hotdogs, pizzas, and a full mezze with hummus, babaganoush, and labneh. I was transported to the initial vision, at Julia & Henry's there is something for anyone, anytime. 
It seems like yesterday when we were brainstorming about what makes Miami special, and how it became the city it is today. We learned how almost 130 years ago a brave lady called Julia Tuttle persuaded Henry Flagler to bring the railroad system to South Florida to develop this promising land. This project needed to honor them, it was a way of making their dream come true, this building would be Julia & Henry's building. The name was the cornerstone of the whole branding, and the logo would be portraying a mockingbird as a symbol of that union and the migration to build a new space, honoring Miami's diverse community.
While working on the branding and curatorship, we wanted to connect with the community and learn from them what they want downtown Miami to be. Through an interactive activation, we listened and learned they want a clean and safe downtown, with food and entertainment options, a place where they could go out at night and that would bring culture and life to the area. Those became the pillars of the brand. 
When it was time to define the food concepts, we first analyzed the area demographics, as well as global and national food trends, in order to determine the type of restaurants and what would be the perfect mix to provide an integrated experience to visitors. Based on our network of chefs and restaurant owners, as well as our understanding of the food and beverage industry, we connected with international chefs, restaurant concepts from different cities in the US, and local favorites. The mix was not based only on restaurant and food concepts but also on providing opportunities to both award-winning chefs and up-and-coming talents with great potential. 
This is how we brought together under one roof Tomas Kalika's Jewish diaspora flavors from Buenos Aires, and Renzo Garibaldi's meat-centric Osso concept from Lima. We gave Michele Bernstein not one, but two spaces to serve delicious Cuban casual foods, and the perfectly assembled fried chicken sandwich. Julia & Henry's was the tipping point for Karla Hoyos to bring her Mexican heritage flavors after a successful career with Chef Jose Andres, and for Peruvian chef Xarles Thomson it was the opportunity to open his first (and second) independent concepts, just to name a few.
We worked together with hospitality operator King Goose in developing new brands based on concepts with great potential. King Goose would not only operate Julia & Henry's but bring some of the most delicious and innovative concepts to life. Their footprint includes amazing burgers from Chef Jose Mendin at June, delicious Gyozas with flavors from around the world at Hitchi Haika, or a trip around Italy through Cicchetti. To crown the curatorship of restaurant concepts and chefs, the last phase of the project will have chef Massimo Bottura opening Torno Subito on the building's rooftop, transporting diners to a world of his own dreams, with a menu that integrates Italian tradition with Miami's modern context, where diners will experience magnificent food accompanied by cocktails coming from the bar curated by Dante New York. 
Julia & Henry's just opened, the buzz is massive, and I am happy to see how everybody is talking about it, visiting, enjoying the food, and staying for a great time. This is just the beginning, I am very positive that Julia & Henry's will be the catalyst of a real transformation of Downtown Miami and a milestone of a city that is enjoying a growing culinary scene. Just like I looked back 5 years when the first seeds were planted, I cannot wait to look forward 5 years and see how Julia & Henry's will shape a city and an industry. Thank you, Julia, and thank you, Henry, I hope we are making your dream come true.
BrandMarketing

-

Food Culture

-

Restaurants

-

Miami Culinary Hub

-

Branding

-

Curatorship

-

Websites

-

Hospitality

-

Awards