The Art of Designing a Restaurant Menu
Guillermo Ramirez
November 30, 2022
·
3 min
A Creative Director's reflection on how to create menus that portray a restaurant's essence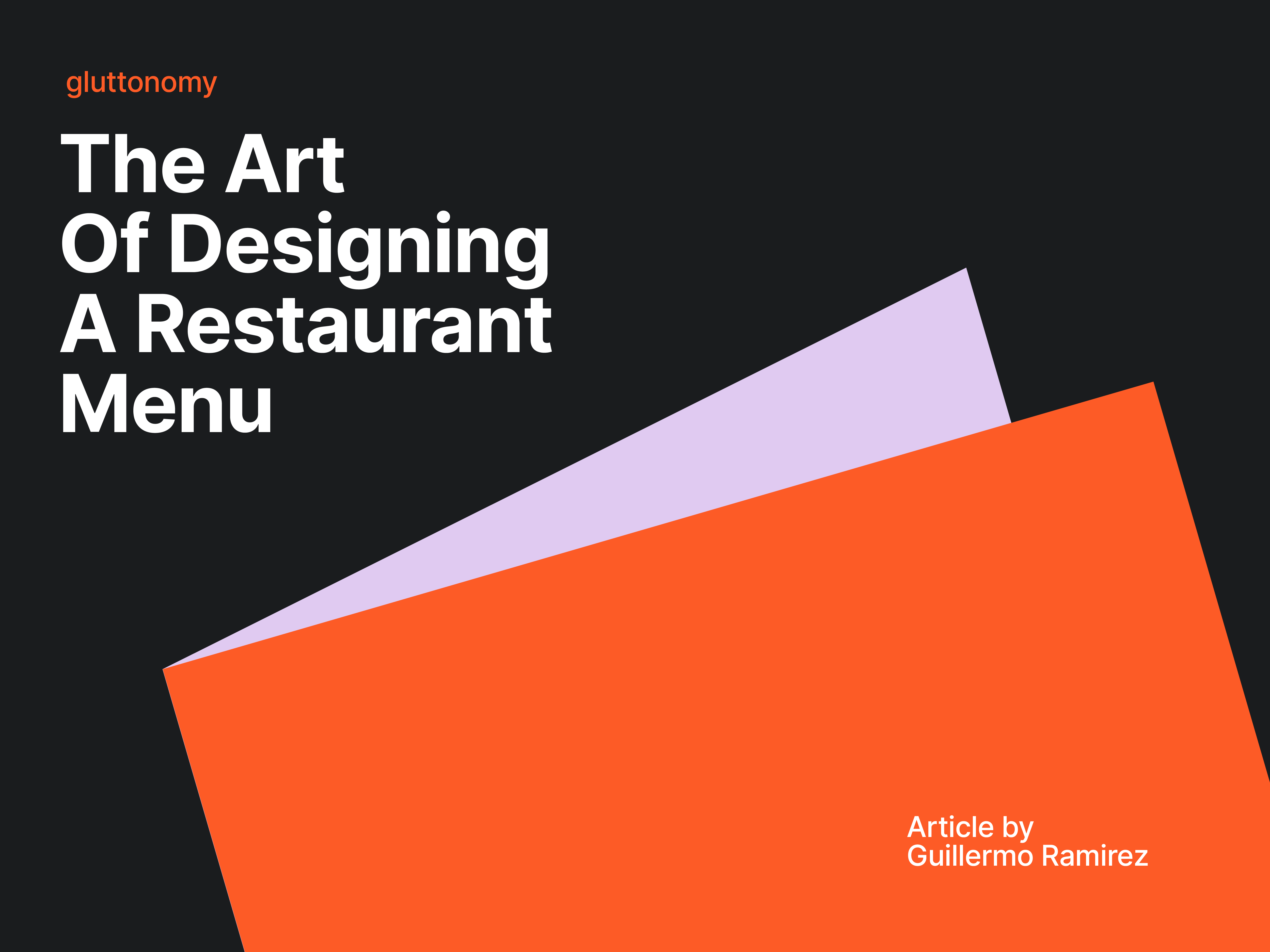 Part science, part art: menu descriptions are usually underestimated. They are one of the main channels through which restaurants communicate what they do. From Dominique Crenn's poetic accounts to minimalistic lists at modern restaurants, we find different approaches to a description. At Gluttonomy, one of our goals when helping restaurants write their menus is to portray the restaurant's essence. To honor their philosophy while also minding their tone of voice and audience.
From a consumer perspective, some diners demand as much information as possible; others are happy to blindly trust the chef in what they will eat at the restaurant. When we design a menu, we consider the credibility of the restaurant and the chef. 
When working on the graphic design of the menu, we see it as the restaurant's "business card", where the restaurant communicates what they do. When restaurants started opening after COVID, most menus were displayed on smartphones, so the design had to be minimalistic, and the descriptions became shorter and more concise. This represented a challenge because communication was limited due to social distancing guidelines. But now that print menus are slowly coming back, there is more room for longer descriptions, which also help restaurants lure diners and explain what they do, and how they do it. 
Menus have also become a tool for restaurants to promote and support the people they work with, giving also value to their offer. For example, if a steakhouse is sourcing its meats from a specific place, they want to make sure that value is transmitted to the diner, and at the same time justify a higher price. Restaurants like Honeybadger in Brooklyn, source most of their ingredients from local farmers, foragers, hunters, and fishermen, and that philosophy has to be portrayed in their menu, giving more relevance to the ingredients than the preparations. Honeybadger's menu these days is more about storytelling than it is about listing dishes.
What a menu contains has become a concern to an important part of the population. Information about allergens, nutrition, and dietary restrictions has become the norm. This represents a challenge when designing a menu, when we need to communicate if dishes are vegetarian, vegan, or gluten-free, just to name the most popular. And to make things more difficult, there is no common nomenclature for some descriptions, so restaurants often get over-creative in how they communicate this.
Another trick that restaurants use when writing their menu, is to play with dish names. Assigning misleading characteristics or descriptions, just for the sake of popularity. At Gluttonomy, we call that "a Bulls**t Menu". For example, many restaurants call any vegetable dip a "Hummus", or any food in a skewer becomes an "Anticucho", not giving any value to the consumer, and providing inaccurate information.
As food delivery apps keep growing, restaurants are encouraged to give more detail, since the only interaction they have with the consumer is through Uber Eats.
Ideally, a restaurant should limit the information on their dine-in menu, listing the main ingredients of each dish. In one hand, it asks the diner to trust the restaurant and chef, but also, it encourages interaction with the staff and sets the tone for explaining what the restaurant, or a dish, is about, which in the end is the value of hospitality.
Branding

-

Food marketing

-

Restaurants

-

Food Menu